it has been quite a while since i update my blogg.
due to

12 hours of working for 12 days straight

.=.=....zzzz
dun wry im backk in action!!hehehe
on dec 3, it was

lisa's party

.her bday party.and her farewell party..
she's so fun..its gona b suckie without herr.byeee

lisa

.=(.
somehow...i was working...cudnt confirm whether i can make it for d party...

siang

managed to escape by falling sick.but i was in doubt.somehow d manager excused us and allow me to leave early...
YAY!
so i was changing in the toilet...doin my stuff...den

rhema

called.she's fetching me and others to

Modesto

.before that....we got to wait for weiguan to pluck her eye brows....shes already running out of eye brows!=p.
rhema's mum

picked us up and we headed to

rhema's hse

.d girls get dressed up, while

rhema's mum

go pick

thian hong

and

cheang ee

from the skool.we waited in

rhema's hse

...d girl's aint done yet.
huh....while waiting....we guys do some story telling.....hahahaa
FINALLY

.d girls r done.wow.=.=
somehow

THIAN HONG

is complaining that he's
HUNGRY.
we squeeze

5 ppl

at d back of

rhema's car

...we were finding out hus d lightest and all....well i am the lightest.so i got to sit on

thian hong

.CUZ HES D

HEAVIEST

.
he somehow got
"in between me"
and shaked his legg.urghh.u know, some part of a guy is sensitive to vibrations.=.=.somehow i cudnt keep my head straight.ahhhhh!poor me!
-a shot from rhema's view-
- shot from wei guan's view.-
thian hong's still complaining tat hes hungry.=.=
reached Modesto ..saw lots of guai lo there...i suppose there wud b lots of chicks ...hehe
we chat...modesto got pretty nice couch.haha.den food is ready, there goes thian hong.hahaa.the food was nice.
then theres Dj and great music.siang make use of d couch to rest...as he is feeling not so good..somehow we'r required to dance...i really cudnt imagine sersiang dancing..cud u..?haha
i felt really bad sitting down on d couch not doin anything..yikes lisa wanted us to dance so badly...then thian hong was d most sporting...where he went to d dance floor with me...hehee
-thian hong showing leong d right way to dance...hahaha!-
then theres this girl...hold my shoulder and pulled me to join her.her name was illa.she stayed at paris and uk...and just return back to m'sia recently...she was happening and fun to be with, but dun misunderstood dat im after her.plss.and i NEVER DANCE BEFORE.*shame shame*
here r some pics of illa and me.
-debra , we'r just dancing.we'r not goin to hav sex.plss-
-i looked supa dupa fat..
den theres bday song for lisa...
then we to0k some group photos...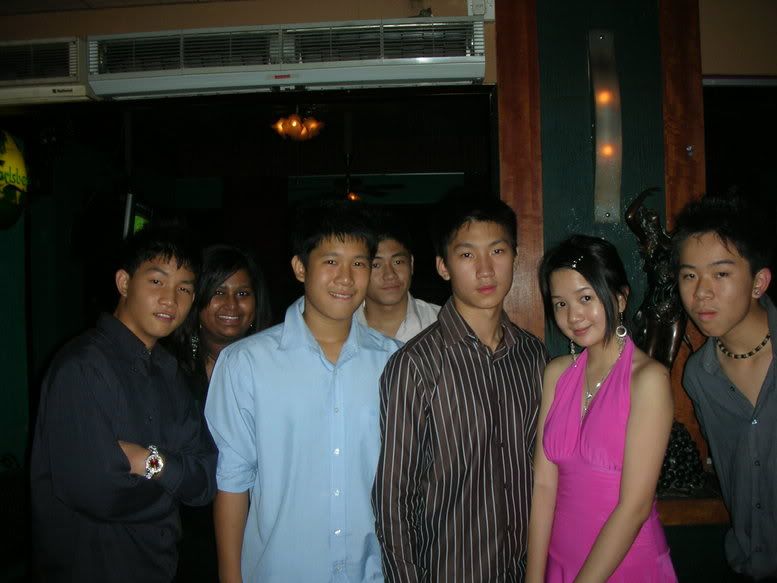 bye lisa.
saw this guai lo couple french kissing for farking long on d comfy couch.2 hours?might b longer than dat.i can drive to ipoh in 2 hours.=.=.tat couple actually went into d girl's washroom..together.YIKES.enough sed.=pi found out tat d guy is 13 and d girl was 14.honestly, d girl was hot.there were like on top of each other..changed position..wow.
i we went home around 12++....i was suppose to sleepover in siang's hse but ended up landing on thian hong's hse.rhema's mum picked us up from hartamas square...rhema must b really lucky to b xcorted by 4 hunks.Haha.den...we took photos like fool...hahahaha.
-fellow bachelors.-
-collars up.-
-siew haurr(down), thian hong(cute), mengleong(busy sms-ing.-
Lisa your party was marvelous....=)
there u are...no more mud-tripping and shin kicking.=\.
So long.