D y n a m i t e z
.
"One Shot . One Chance."
they're hot.
they're explosive.

they are,
Dynamitez.
-------------------------------------


DJ
'
s
cheerleading squad,
Dynamitez
was crowned as the
National Champion
last year. Good things do not come easy, their hard work and sweat had paid off. The triumph was priceless. Protecting the title isnt the easiest thing to do.
So, these bunch of hot cheerleaders had been practising their their ass off. Making sure flaws are not their option. I have seen their practice myself, they were impressive.

-------------------------------------
these are the sweet memories of 2005.
[heh check out yien's leg.its long=p]
i shall induct the members of Dynamitez.
Sandra.
Fardina.
Melissa.
Cheryl.
YienYien.
JoanneChen.
XinHui.
JessicaLow
MianMian.
Lyana.
LeeJane.
StephanieWong.
JessicaLoh.
AudreySng.
GuetCheng.
KaMun.
hot.no?
------------------
somehow injuries are possible.for example, Dina fractured her leg last year.Jane injured her hand recently.Melissa had some injuries as well.i heard rumours Edwina's joining back Dynamitez[extra hot!].just pray the girls will be at their best for the showdown.because i will. Some girls might look like they just had a gang fight, not in the mood to talk and all. The possible factors are it is the time of the month or they are just plain tired from their daily practices.
-------------------------
im looking forward to Cheer2006.Are you?there's reason for you to be excited about.
if you're a girl:
Our friends are performing!

Joey G

will be there![

cheryl

-_-]

Jien

as well![some girls probably]

Might get to meet hot guy cheerleaders there.

*cough**ehem*

Mickymitez

**ehem*
[though i heard vulcans' are not sending their boy team this year.=p]
if you're a guy:
Our friends are performing!

Your girlfriend is performing!

Hot hot cheerleaders!

PRAY FOR

AMBER CHIA

TO TURN UP.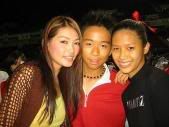 heh.
OH. wear RED for Cheer2006 to show your support for Dynamitez!
---------------------------
no matter what girls, you know you got us as supporters backing you up.
All the best and make everyone proud.
Boom Dynamitez :)