I was wrong again :D.
haha yeah i was wrong again.
again, i expected a stay-at-home-lying-down-half-naked to spend the period of my birthday.
well i was wrong.
it certainly wasn't a stay-at-home-lying-down-half-naked birrthday for me:)
---------------------------------
In the morning, i went to La Gourmet, suppose to meet up with
Mr
Anthony
as
Vincent
said he wanted to see me at 11am. But unfortunately he wasnt there. So i just filled an application form, left my contact number hoping he will call.
Then, i drop by at Cineleisure, im pretty captivated by it, its kinda nice. got to try it out one day.
anyone wana join me?
then as i passed by, i saw...
i asked him to pretend like he was working.there's no customer actually.hahahaha
------------------------
for the eve of my birthday, its suppose to be an outing with
Stephanie
,
Natalia
and
YongMeng
.
to catch a movie , you know.
SerSiang
tagged along with
WeiGuan
.
For lunch, we purposely went to Nandos to check
Jane
and
Grace
.
As we sat we went..
"waitresss!waitress!"
haha then came
Grace
, the ultimate sarcasm queen to take our order.
Grace
SerSiang
Me
Hmm what drink should i order ar.
I think a jug of soft drink. Thristy la.
Ehh one jug expensive not worth it.Each one cup better.
So Grace which one do you think is better a jug or a cup?
It doesnt really matterrrrrrrrrrrrrrrrrrr.
Okay we shall have a jug.
What flavour?
Which flavour do you recommend?
What flavours are there?
Erm coke, sprite, strawberry, 100plus....
Okay spirte. No but 100plus is isotonic,
Aiks.Which one is better Grace?
It doesnt really matterrrrrrrrrrrrrrrrrrrrrrrr.
100 plus then.
What do you all wana eat?
A quarter chicken with rice.Grace, a quarter chicken...a quarter chicken.....a quarter chicken.dont take down wrongly kay?
YES.Which flavour?
Which flavour do u recommend?(I think she hates me now.)
It doesnt really matterrrrrrrrrrrrrrrrrrrrrrrrrrrr.
Okay erm hot peri peri for me.

VERY LONG LATER our jug came, after we kept on calling "waitress waitress!"

Haiya soft drink very easy prepare, press button can ledi.
Yala should complain.

*sippp

GRACEEE.THIS IS SPRITE.

then came a plate...after a LOOOONG time waiting.

A QUARTER OF A CHICKEN.

hahahaha i think Grace is so mad at us.so dat pathetic a quarter of chicken was my lunch. :p

we even have to wait damn long for the bill.tsk tsk.

-----------------

Then it was time the movie starts.
we watched The Prestige.
regarding two magic performers trying to out-do each other.
good show really, but YongMeng doesnt get the show.ahaha that blurr dude:p
Nat
and
Steph
kept on making me think of things-that-WOULDN'T-happen-to-me, erm you know...*rawr*
hey its not wrong to dream a lil isn't it?:p
After the movie, they hunt for stuffs for my present..
We went Topshop and
Nat
&
Steph
asked me to put on the clothes they picked,
suddenly
Steph
recalled there's one shirt in Zara that she thinks is super cute:p.
haha when we were at Zara i think we kind of like messed up the place.
Nat
and
Steph
thinks that i should wear those silky-sexy-lingerie-look-good-on-bed-kind-of-shirt.
and they made me try M...S...XS... hahaha
after a longggg session of trying clothes session, they decided to get the shirt that says..
:)
thats not all.
Nat
and
Steph
want to get a brief for me.
they even said hey this brief is nice la, can even wear to cheer07 or anywhere!
it says ;
STRONG AND POWERFUL
hahaha:D
but they said i've got to try it at

Dina's

hse as we reach there later:p
A sweet or kinky sixteen you would say?:p
-------------------------
then we head to the
Fuad's
residence, for a Raya open house.
Steph
kept on saying she cant wait for
Auntie Farah's
laksa cause she's super hungry:b
before that
Nat
gave
Pinky
a lil drink at the nearby Shell Station.
then we makan makan (the laksa was good alright!)
tried mini muffins that has
Dina's
handprint. haha:)
after that, time to try the brief...u might not wana see this.
sorry to hurt your eye/make your eye bleed/shed tears/whatever.
then i made the
PORNSTAR
to pose with a songkok.

yea man Ethan!der spark the raya spirit.just a lil spice of attitude in it:D.haha

then, came Auntie Farah, she gave me angpau:p




thanks Auntie Farahh:).

--------------------------------
Later on we headed upstair to watch porn.

NAH not on raya.

we watched Saw II instead.



smilee:)

ironically, in a muslim hse, we found out there's a number of cute PIG soft toys.haha



meet piggy and thanks Steph for the finger:p.

-----------------------
we went downstairs to take a few shots, then continue watching porn.(SAW II laaaaa)

suddenly,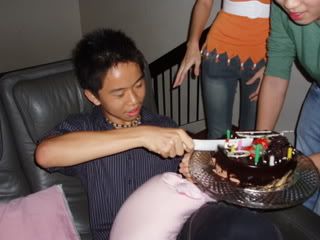 Nat said im suppose to cut halff way and its bad luck to cut all the way:p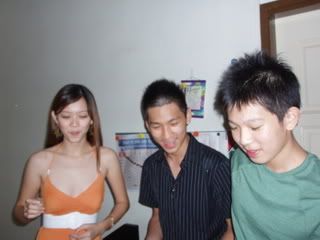 that's Nat, Siang and Joe:b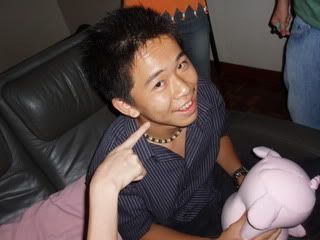 thanks Steph for the finger again.haha:)

-------------
after that we watched porn in Dina's room.
haha we watched Friends actually:p.

the making out thingie was hot.funny funny stuff.

finally we got to end our day and say goodbye.
PORNSTAR walked home.(didnt get rape right?)
Cheryl, WeiKit and me followed Sabrina home as she dropped me at Taman Megah.

------------------

On my birthday itself, there's some family outing to Tropicana for me.
to play pingpong and badminton.

then, a last minute planning outing to 1u, after BumBum suggested i should go out on my birthday.
So we watched Stormbreaker *yawns*.

and to the kids sitting a row behind me, thanks for kicking my chair constantly.

we managed to check out 1u's rooftop, to see the Battling Cages.
its not that easy to hunt that place.
but there's a lift towards Parkson U, take that lift.
press the "UR" button and u will be at the upper roof.

haha there's one gang of dudes, found the upper roof and shouted:

WOOOHOOOOO!!!!!!!!

haha i felt his sense of triumph, as that place wasn't easy to find:p


----------------------

ThianHong called, said we should have supper together.
But first he stopped at my house, as my dad and sis bought me a mini cake for a mini celebration at home.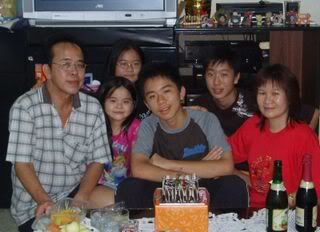 that's the Lums alright.

and that's ThianHong and WeiKuan.

then we're suppose to walk to Jesse's house, but ThianHong insisted he wants to taste my brother's driving.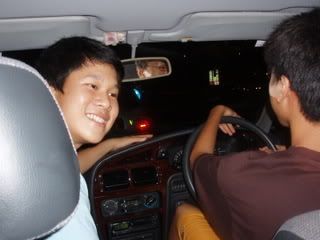 i think he likes my brother's driving.

we managed to drag Jesse out of his house to go Teatime, as its the only stall open on the 2nd night of raya.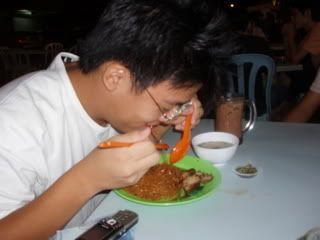 Jesse said scooping ice-cream is tough.



ThianHong is leaving to Australia.



I just turned 16:p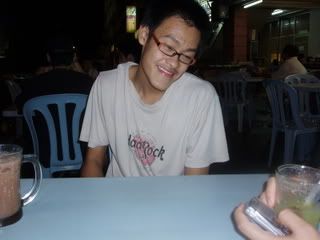 WeiKuan is....WeiKuan.


off to Canon CEO's residence.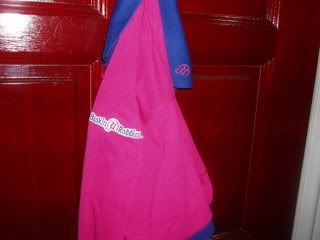 that's the shirt that Jesse wore 3days in a role without washing.hahaha




"Look up and smile people!"said ThianHong:p

--------------------------------------

thanks Natalia, Steph Lim, Dina, Nimalan, Sin Seanne, Yee Wen, Ashton, Khei Sze, YongMeng, Steph Wong, Kar May,Sabrina, Cheryl, Yien2, Jesse, MayEe, TAYLORS COLLEGE, Wei Guan, Marcus, Yen Vern, Lee Min, Daena, Megan, Jebat, ThianHong, Daniel, SerSiang, Joe, Kirsten, JINGYI(:p) and many others...!
for sending me birthday wishes, kept my phone busy and put a smile on my face:)

YiChing, remember your punishment for not remembering my birthday:b!

Especially, Nat and Steph for making this year a kinky one:p.

to those who gave me a hug, i really do appreciate them as well:D.

----


"oh dear, when are you coming?"