Ooi Dodoi.
he calls you frequently to talk about the latest news.
he acts childish but could be serious and affectionate at times.
he constantly loves to go to the mamak stall.
he loves spicy food.
he is extremely good talking with our parents.
he loves to visit
Jesse
every Chinese New Year.
he is the one who taught me to use weights to train myself.
he loves football.
he has a pair of HUGE thighs.
he LOVES his mom's soup.
he is,
Thian Hong

.
Thian Hong
is leaving Malaysia soil.
Migrating to Australia.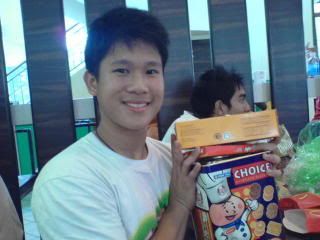 and yes, we won't forget you.